Our Catholic school is part of the Catholic Church. We work in partnership with our local parish and priests in order to enrich the spiritual life of the students, staff and families of our school, especially through the celebration of the Sacraments.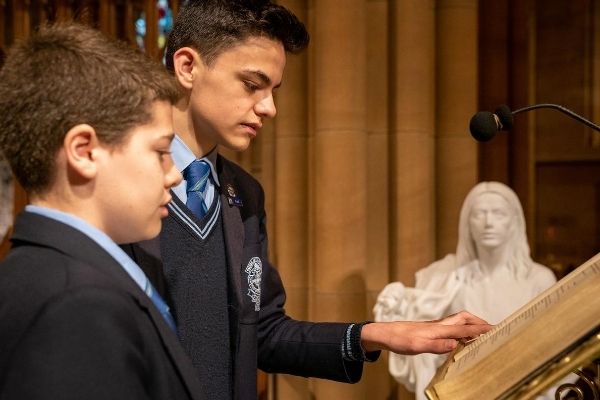 The college provides opportunities for students, staff and parents to know and celebrate our Catholic faith. The college enjoys a close relationship with St Mary's Cathedral, the mother church of Australia, and is the place of worship for our major liturgical celebrations throughout the calendar year. Members of our community experience a rich liturgical and prayer life, celebration of the sacraments, faith formation, social outreach activities.
The college provides the community with opportunities to participate in the sacraments, with the Eucharist celebrated every Wednesday before school in the cathedral crypt, and opportunities for the Reconciliation during the school year. In the Edmund Rice tradition, we provide a formation experience for all students through annual reflection days for all students in Years 7–10. These are conducted by the college staff, with the highlight the senior residential retreat at the start of Year 12.
The college supports the work of the cathedral through providing altar servers each week at the 1.10pm Mass, and as needed for significant liturgical events in the cathedral, including St Patrick's Day and Holy Week. The college has a unique relationship with St Mary's Cathedral Choir, who sing at Mass in the cathedral throughout the school year, as the boys in the choir must be enrolled a the college.